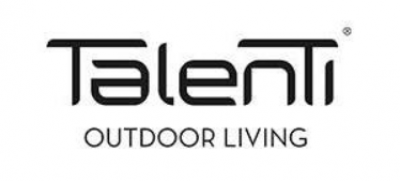 Talenti history starts in 2004 with Fabrizio Cameli who, after spending some years in the old family marble company, decides to create his own reality in the production of outdoor furniture. He uses his skills acquired in the marble working to create very high quality outdoor furniture in a classical style.
He called this reality Talenti. He chose the name just for fun, it was proposed by his friends who esteem and consider him a true talent in his job. Fabrizio sees in this name the throbbing heart of his business idea: he wants a company which stands out just for its talent and creativity, which is able to keep its ambitious promises, always starting from humility.
And it is just like that: Talenti immediately stands out for its powerful inclination for art. The first collections are classic: elegant products with an antique flavor inlaid with earthenware stones often personalized both in shapes and colors.
In 2007, during the economic crisis that affects the whole country, Talenti speeds up its intuitions: something is changing and we cannot lag behind.
Therefore, other lines are studied, this time with a contemporary style (opposite to those produced up to that moment), and presented in the same year during a trade fair in Paris.
A courageous and visionary choice that is repaid and confirmed even 7 months later, in Milan when, risking the criticism of clients accustomed to the soft and elegant lines of the classic style, Talenti presents its contemporary collection at Salone del Mobile in Milan, the most important international event in the world of furniture.
For this launch, Talenti chooses Karim Rashid, designer who at that time enjoyed great support from the market.
The products realized together with the American designer are a success; the collaboration with Rashid consecrates Talenti as one of the leading players in the outdoor living market. It is the first step of the journey that gets Talenti closer to several internationally renowned designers, authors of such collections that allow the company to enter new European and Worldwide scenarios.
Today Talenti is developing and spreading the brand all over the world. At the base of every business action and operation, there are the customers, the team, agents and each person who comes into contact with this big family.
Talenti's team work with great enthusiasm and harmony doing their best every day; it has always been like that and it always will be.
---
Products by Talenti
How will aidda.cz make your life easier?

3D models for all products
All products featured on aidda.cz have FREE 3D models available. If the 3D model is not attached to the product, please get in touch and we will send it to you. All 3D models are stored in our internal database.

Vast choice
Aidda.cz is offering products by more than 800 furniture manufacturers and we add more every day. If you do not find your favorite brand, please contact us and we will be happy to add it.

Full service
Based on your customer´s inquiry we will finish the order, handle all agenda with the manufacturer, order transport and handle all complaints as well.

Loyalty program
For professional users (architects and interior designers) we offer a generous loyalty program. More information is available in your account once you sign in. Please keep in mind your professional registration has to be approved first – you will be notified once your registration will have been approved.
Team Aidda.cz
Thank you for signing up with aidda.cz
Now you can use all aidda.cz services for professional users.
Now you can create your projects, add products and share your projects with clients. Also clients can register, create their own portfolio of chosen products and share it with you.
Once you confirm the choice with your clients, send us the inquiry and we will handle everything else: we will contact your clients, finish the order, handle the whole agenda with manufacturer, transport and of course also possible complaints. Once the order has been finished and paid, you will receive bonus points.

Loyalty program
For professional users (architects and interior designers) we offer a generous loyalty program. From every order through aidda you will receive 7% bonus, more based on volume of your (your clients´) orders.
Team Aidda.cz